HD Video Courses • Mobile Friendly • Available 24/7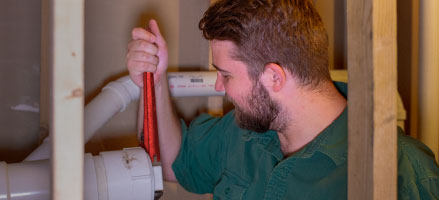 Plumbing Contractor
Exam Prep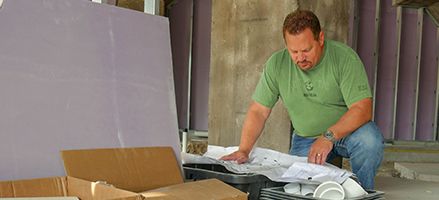 West Virginia Plumber License General FAQ
What are the types of plumbing licenses available in West Virginia?
Plumber Contractor – required for plumbing work over the amount of $2,500.
Master – Anyone with at least 12,000 hours of plumbing work experience who is competent in designing plumbing systems, as well as, instructing and supervising the work of Journeyman and Plumbers in Training.
Journeyman – Anyone qualified by a minimum of 8,000 hours of plumbing or related experience who is competent in instructing and supervising a plumber-in-training.
Plumber-in-Training – Any person with interest and aptitude in performing plumbing work but cannot perform said work on their own and has fewer than 8,000 hours of plumbing experience.
How do I get a plumbing contractor license in West Virginia?
Meet State Requirements

Have at least 12,000 hours of plumbing experience

Complete an Application & Pay the $75 application fee
Contact ProV to schedule the Master Plumber & Business & Law exams 1-866-720-7768
Pass the State Exams – Study for your exam!
What does your plumbing exam prep cover?
Business Law for Contractors
Business Organization
Contracts
Estimating and Bidding
Financial Management
Labor Laws
Licensing
Project Management
Risk Management
Safety -- OSHA
Tax Law
International Plumbing Code
Administration, Scope and Intent/Purpose
Definitions and Symbols
Plumbing Math
General Regulations
Fixtures, Faucets, and Fixture Fittings
Water Heaters
Water Supply and Distribution
Sanitary Drainage
Indirect and Special Waste
Vents
ITraps, Interceptors and Separators
Storm Drainage
Nonpotable Water Systems
Subsurface Landscape Irrigation Systems
Appendix E
Isometrics
Private Sewage Systems
International Fuel Gas Code
Hands-On Practical Application
Master Plumber Isometrics
Practice Test
Bonus Materials
Reading and Understanding the PSI Bulletin
Books That You Should Have During the Exam
Effective Study Techniques
Who issues the West Virginia plumbing licenses?
West Virginia Division of Labor
1900 Kanawha Boulevard East
State Capitol Complex - Building 3, Room 200
Charleston, WV 25305
Email Address - Licensing@wv.gov
Telephone Number - (304)558-7890
Fax Number - (304)558-5174